Here's How To Up Your Chances Of Getting On Exclusive Celeb Dating App Raya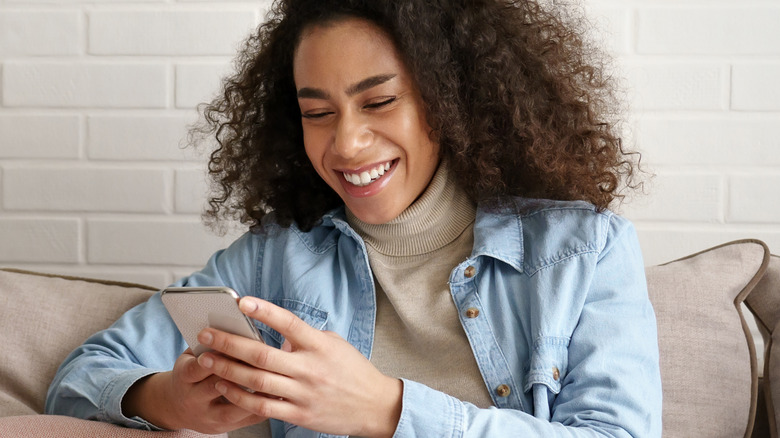 Ground Picture/Shutterstock
When dating apps finally hit the mainstream and everyone was using them, it was safe to assume that it was just a matter of time before the celebrity version of dating apps joined the club. You know, because single celebs can't just roll up on Tinder — or they can, but they just don't have much luck (via Distractify).
So, when Raya launched in 2015, famous people had a place to go to meet and, ideally, date other famous people. Because why on earth would a celebrity want to date a mere mortal like the rest of us? The app was geared specifically to the rich and famous, as well as the famous who aren't rich and the rich who aren't famous. To prove its exclusiveness, it only accepts 8% of applicants (via The New York Times). That's one heck of a paltry amount, considering those who would love to be accepted and get the chance to match with the likes of Channing Tatum or Amy Schumer — both of whom have allegedly been on the app, along with many others (via Us Weekly). So, how can you, a mere mortal, get on Raya, besides wishing on stars and tossing pennies into fountains? Easy! Well, not so easy, but you might as well try. 
Know cool (and important) people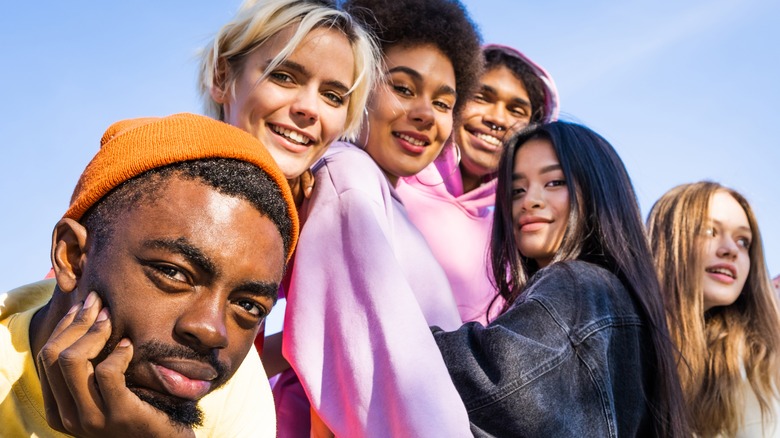 oneinchpunch/Shutterstock
As is the case with a lot of things in life, Raya is about who you know. Not only do you have to fill out an application that will be viewed and assessed by anonymous members of the elusive Raya committee, but you also need to get a referral from people you know who are already on the app (via The Conversation). And one referral isn't going to cut it; you need quite a few to show you know at least a handful of Raya-approved humans. Then, of course, you wait. And wait. And wait some more. 
Some people will be accepted within a couple of days, while those who are rejected are sent to Raya purgatory, meaning they're not officially rejected but Raya will let them know that their application is currently on their waitlist (via Vice). But, apparently, or at least this was the case in December 2019, there were 100,000 people on that waiting list for an app that only allows 10,000 members (via Insider). So, you do the math on that one. If you can't get any referrals, which is pretty much mandatory to get on the app, you can possibly have — fingers crossed — two other ways into the oh-so elitist club, er, dating app.
Be interesting and love taking selfies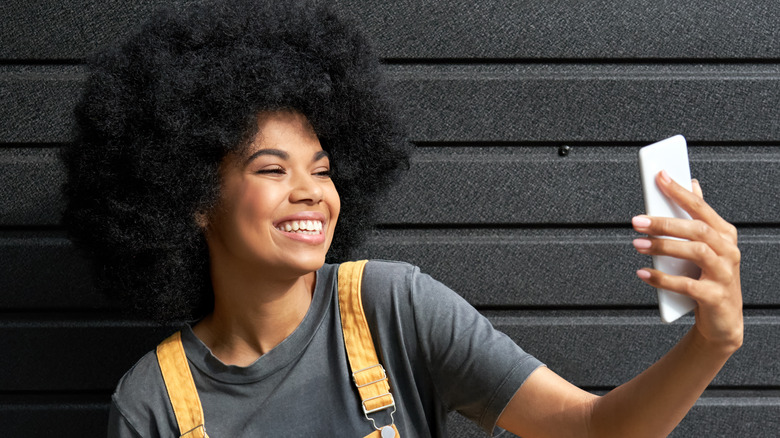 Ground Picture/Shutterstock
Although the site does cater to the rich and famous, it also caters to those with interesting jobs (via Elite Daily). Interesting should translate to creative and cool careers that definitely aren't run-of-the-mill, that's for sure. While you don't have to be an influencer, it helps because, if you haven't gotten the memo, influencers are considered cool and interesting at this juncture in history for reasons that have yet to be scientifically proven. 
Raya also, to no one's surprise, loves beautiful people and the type of beautiful people who use their beauty in endless selfies on Instagram (via Ask Men). In fact, you have to provide your Instagram handle, so they can really get a good look at you and see if you qualify for the elite app. So, if your IG is photos of food and your pets, it's time for a makeover; Raya is all about keeping things superficial. So, show off that gorgeous mug of yours, photo after photo, and scrap everything else. 
Should you actually make it onto Raya, don't expect to see a plethora of celebrities. Because Raya does cater to the rich as well, you'll come across children of oil tycoons, an obscenely rich sheikh or two, and others who fit into either of these categories: rich, famous, beautiful, or cool. Sure, celebrities are on there, but with 10,000 people on Raya, the percentage of celebrities can't possibly be that high. But, if you're honest with yourself, at the end of the day, being able to say you were accepted onto Raya is surely what really matters, even if that's just what we're telling ourselves.