Can You Contour With Blush?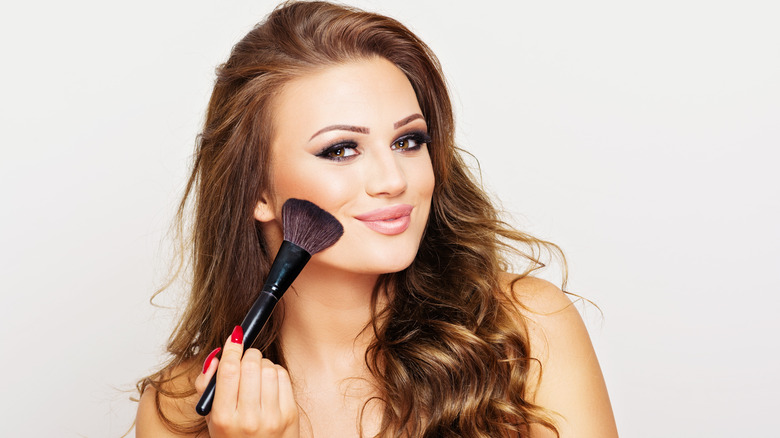 BigLike Images/Shutterstock
There are so many ways to add definition to the face and carve out those unique features. A good highlighter or bronzer stick is always the go-to for contouring the face, using the art of shadow and light for a chiseled look. But how often do you use your blush to contour? Expert makeup artists know that highlighting and contouring go beyond bronzer and concealer. Because the cheeks are such a defining aspect of your face shape, they're the perfect surface area to play with and contour.
Blush is one of the most exciting parts of the makeup process because it's when you add color and depth back to the face. The choice of color adds a subtlety of emotion, and when placed on correctly, it can create dimension and breadth. A huge fan of blush as a contour, Kim Kardashian's makeup artist Mario Dedivanovic even developed his own line of blush contours that blends bronzer with pinkish blush tones to create an airbrushed rosy sculpted effect on the cheeks.
Blush placement can change or enhance face shape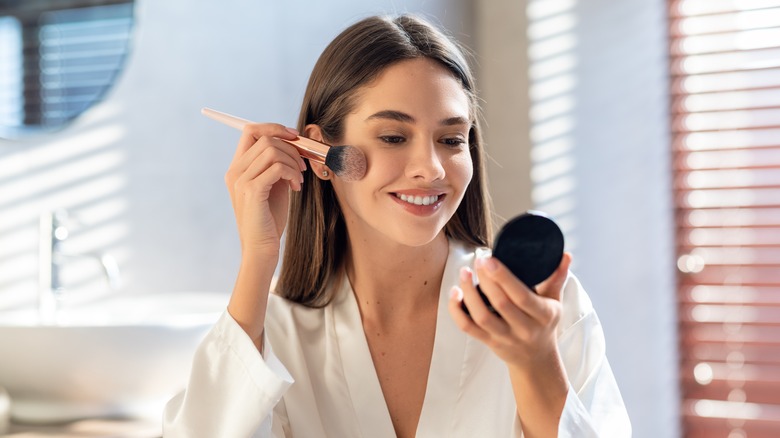 Prostock-studio/Shutterstock
If you're contouring with just one shade of blush, you want to think of it as adding further definition to the face after you have completed your highlighter and contour. Blush placement alone can completely transform the cheek area, whether you want to play up natural features or softly sculpt and lift.
Makeup instructors at Vizio Makeup Academy suggest contouring based on your face shape to better enhance your natural features. For example, square or diamond-shaped faces should place their blush under the apples of the cheeks, brushing upwards to create a rounder, more feminine look. Rounder faces that want to bring out more angles and definition should place their blush on the higher side of the cheeks, where the blush can create a sharper shadow. For anyone who wants to lift and sculpt the cheeks, add a pop of blush to the apples of the cheeks. If you're daring for a younger flirtier feel, round off your contour by using any blush residue on the bridge of the nose and forehead.
Use two or more colors for deep contouring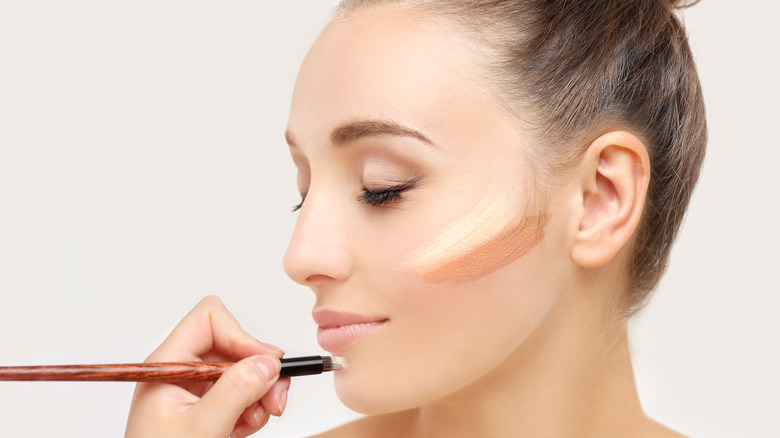 LADO/Shutterstock
If you're going for a cheek-focused high-powered contour, you're going to want to grab two blushes to blend out the rosy dimension. First, grab a deep shade that you're not afraid to create a shadow with. It can be near to a bronzer color with a more rouge saturation, or it can simply be a deeper red or pink. For your second color, pick a lighter shade you would typically wear alone as a solo blush. Use the deep shade underneath the cheekbones to emphasize depth and angles to create a chiseled curve. Then go back in with the lighter shade on the high points of the cheeks and generously buff out the two shades together, brushing upwards.
Celebrity makeup artist Patrick Starrr has made waves with his take on contoured cheeks with his award-winning Cheek Clapper 3D Blush Trio Palette. These palettes use three colors to create a gorgeously contoured, rounded-out cheekbone that looks airbrushed. The palette incorporates three different textures, including a cream, matte, and sheen formula, to sculpt the perfect cheek.