The Unexpected '90s Jewelry Trend Making A Big Comeback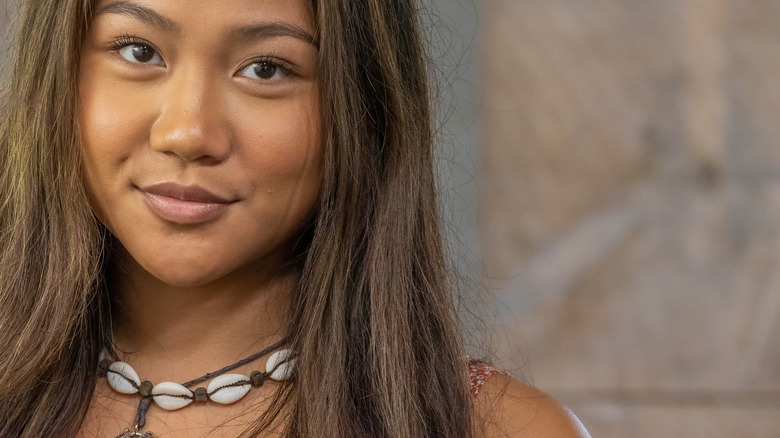 Dee Browning/Shutterstock
Another '90s early Y2K aughts trend is here and ready to make a full comeback. It's a fun and unique way to accessorize. In true fashion-forward style, many designers have found a way to create this type of jewelry in a way that fits a variety of outfits in a variety of ways. It's not likely you have forgotten just how popular this accessory once was, but it has definitely evolved. It was popular then, and it is absolutely loved now.
Fashion is all about creativity and sometimes an evolution of popular styles. The latest trend? Shell or shell-inspired jewelry. This may immediately make you think about puka shell necklaces that you'd find at the local beach vendor's jewelry stand. After all, it is a beloved accessory for many surfer dudes and babes. In fact, it dates back 100,000 thousand years, originally crafted in Israel from a type of sea snail shell (via The Vintage News).
What is it?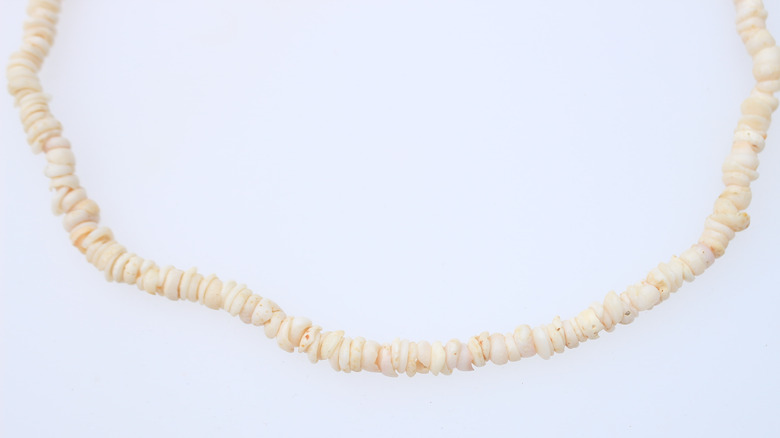 ziedonis/Shutterstock
There are many different types of shell jewelry, but the two you may recognize more often are the puka and the cowrie shell, which are often mixed up. "'Puka' [in Hawaiian] literally means 'hole,' as in, shells with a hole in them. The original puka shells were conical tips of snail shells and more of a mottled brown color, now called tiger puka," co-owner of Grass Shack Trading, Terry Peek tells Mel. "These shells were strung on cotton or silk cord and worn as necklaces, celebrating the island culture." As the puka shell reaches the end of its life cycle, it erodes until its helix breaks off. When it does, it leaves a ring-shaped remnant behind, which is what is then used to stack together to create the puka necklace.
On the other hand, the cowrie shell offers a different appearance. This shell is bigger, often in a more rugged oval shape with an opening slit in the middle, where the sea snail originally resided. The cowrie shell necklace carries origins tied back to African culture for hundreds of years, where they were used for jewelry, headdresses, and currency. The cowrie shells can also symbolize good fortune and wealth.
Shell jewelry today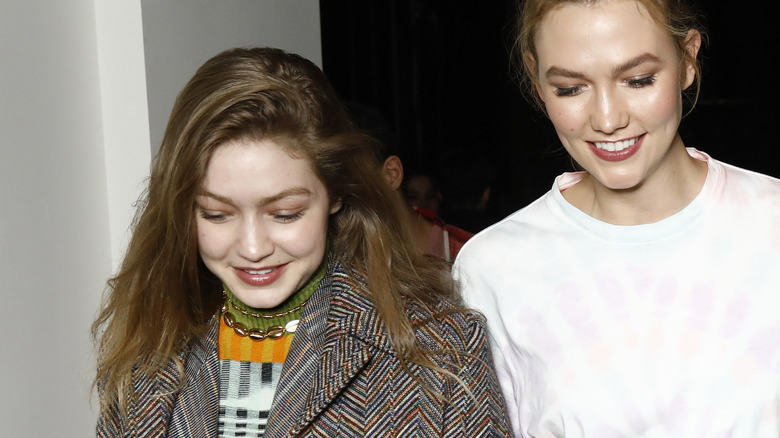 Julien M. Hekimian/Getty Images
This kind of jewelry was popular amongst surf culture and beach locals, but it quickly became a fashion statement, as seen on some of the characters in The O.C. Blonde highlighted spiky hair or buns, outlined lips, and small tank tops were a popular pairing with shell jewelry. It was a staple of the '90s and early 2000s wardrobes everywhere. Today, it takes a different approach.
You can still find them just as they have been designed in history and in the '90s: a simple assembly of shells along the necklace string. Now, you'll also see them with a more elevated or detailed approach sometimes. For example, you might see luxury earring jewelry made of a turbo shell and adorned with 18K gold. Or, you might see a cowrie shell gold-plated bead in the form of a choker. Pearls are another popular addition to shell jewelry as it adds more ocean beauty. However, not all shells may be authentic today. "It takes tons of patience to find the shells, ensure they conform to the design, clean them, and saw them for the finished product," native Hawaiian and cultural adviser Clifford Nae'ole tells Vox. "There seem to be a lot of imitation puka shell necklaces coming from elsewhere in the world."
Many models like Gigi Hadid or designer brands like Prada have fully embraced the trend. With its many forms and modifications, shell jewelry can be dressed up or down for any occasion. Today, it's back, all thanks to the fashionable Y2K obsession.